Hand Pulled Steel Wire Saw, Chain Saw, Rope Saw, Rope Saw, Life Saving Saw, Outdoor Survival Equipment, Outdoor Supplies
Hand Pulled Steel Wire Saw, Chain Saw, Rope Saw, Rope Saw, Life Saving Saw, Outdoor Survival Equipment, Outdoor Supplies
Regular price
Sale price
$9.78 USD
Unit price
per
SALE
Sold out
637 in stock
Product attributes:
Product category: Survival tools
Product name: Outdoor Survival Wire Saw
Material: 304
Unfolded length: 72CM
Weight: 26g
Scope of application: Camping, outdoor, garden and home furnishing, construction sites
Introduction: Wire saw, all steel wire manufacturing! The handle can rotate 360 degrees, which is much more flexible and powerful than the old handle that cannot be promoted. Don't underestimate this thin steel wire, its cutting ability is very strong. Apart from metal, it can quickly and effortlessly cut any object!
Usage: Just use your hand to pull the saw apart and rub it back and forth on the cutting object. It can be done in a few seconds! Don't use the saw that comes with the Swiss army knife, it's slow and laborious!
A saw blade is an important item in a survival backpack. A wire saw can cut through thick trees, and it doesn't take up any space in your backpack, almost negligible.
A wire saw is an important item in a survival backpack. The teeth of the wire saw are very fine, and it is important to be careful when using it. Rust on the wire saw can dull its teeth. After each use, it should be wiped clean and coated with food oil.
It can cut wood and plastic from any direction.
[Usage]
※ Place your thumbs in the pull rings on both sides, stretch the saw body to make it tight, and quickly move the saw body back and forth.
※ One handed usage method: First, cut a branch of the tree that is about 10cm longer than the saw body and the thickness of the thumb. Make a cut at both ends of the branch, insert the pull ring into one end of the cut, bend the branch, and insert the other pull ring into all other openings to make a bow shaped hand saw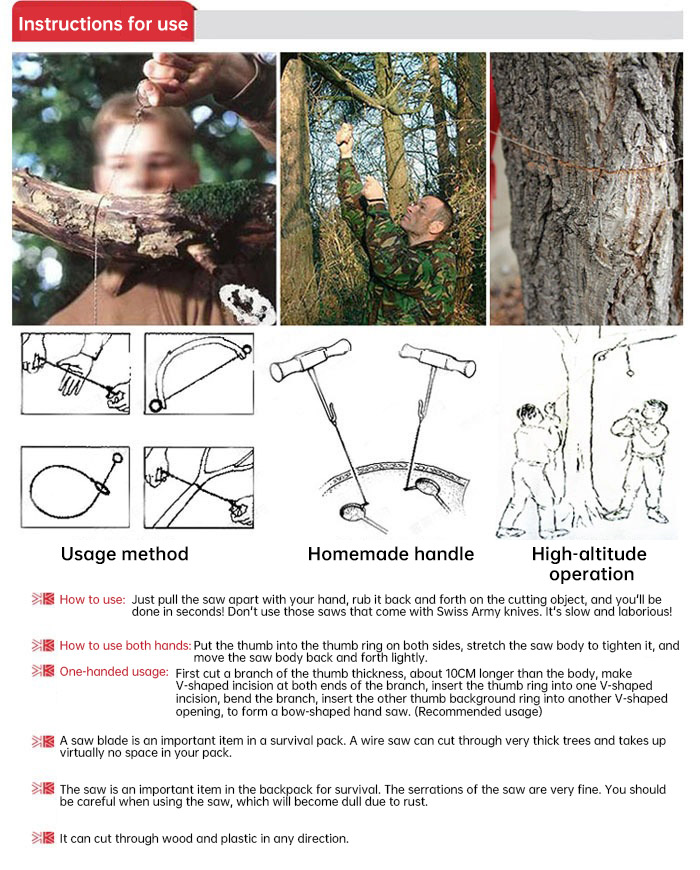 Share
View full details